Prenuptial Agreement Lawyers in Monmouth County
Helping Clients Draft Enforceable Premarital Documents
Although prenuptial agreements are often stigmatized by the public, they can actually help strengthen your relationship. Making a prenuptial agreement requires open and honest communication about things like money and debt. Speaking about such issues can eliminate misunderstandings between you and your spouse that might otherwise cause a rift in your relationship.
What Does a Prenup Do?
A prenuptial agreement is a marital document you make prior to getting married. This legal document details who gets what assets and why in case of divorce.
Prenuptial agreements can be used to:
Define marital or community property
Support your estate plan
Protect the property you had before marriage
Clarify special agreements or arrangements made between spouses
Outline procedures and rules for deciding future issues
The biggest benefit of having a prenup is that it essentially establishes the ground-rules for your marriage. It can also decrease future arguments over property and assets, especially when both parties feel that the agreement is fair. Prenuptial and postnuptial agreements can also be used to help make your will. Because your descendants and heirs cannot change the conditions of your agreement, it will ensure that your wishes are followed after you die.
Can I Draft My Own Prenup?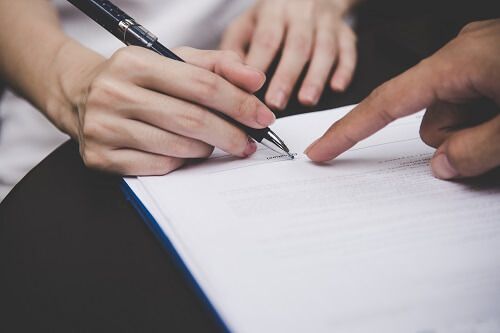 Drafting your own "marriage contract" has great appeal under all circumstances. But before you do, it is wise to seek legal advice, especially if you acquired assets prior to your marriage or civil union, or if one of the spouses or partners earns a significant income.
The attorneys at the Law Office of Steven P. Monaghan, LLC have over 60 years of combined experience and can assist you in creating a legally solid prenuptial agreement. Our founder, Steven Monaghan, is certified by the Supreme Court of New Jersey as a matrimonial law attorney, so he provides added knowledge in these matters.
Need a prenup? Call the Monmouth County prenuptial agreement lawyers at the Law Office of Steven P. Monaghan, LLC at (732) 624-6343 to arrange for your free initial consultation.
What Makes a Good Prenuptial Agreement?
A prenup must be written down, include a statement of assets, and be signed by both spouses when they are not under duress to be considered enforceable.
The prenuptial agreement should address issues such as:
Rights and obligations towards any real property
The rights and duties to manage or sell property and mortgages
How assets will be divided
The modification terms of alimony payments
Arrangement for a will or trust
Issues dealing with life insurance
Any other obligations
The people who entered into the agreement are free to amend or revoke the premarital agreement at any time during the marriage. In order to revoke or modify a premarital agreement, the people must agree to do so in writing.
Can a Prenup be Voided By the Court?
A prenuptial agreement will be considered unenforceable by the court if:
It is not in writing;
Assets were not disclosed;
It was signed under pressure or coercion; or
It contains invalid claims.
Some Important Things to Consider
It is very important that each party has his or her own attorney review the agreement. The court will consider when and the context in which the parties signed the agreement. If a premarital agreement was signed on the day of the wedding or the days preceding the wedding, the court may find that the agreement was coerced or made under duress.
Need a Prenuptial Agreement? Call Us. We Can Help.
If you need a prenuptial agreement drafted or would like to talk to us about one in general, call one of the experienced Monmouth County prenuptial agreement attorneys at the Law Office of Steven P. Monaghan, LLC at (732) 624-6343, or contact us online. Your first consultation is free.
Meet Your Advocates
Personalized. Compassionate. Experienced.
Former Client Experiences
We Tailor Our Approach Specifically to Meet Your Goals
- M.A.H.

- K.S.

- G.H.

- S.C.

- M.D.
TURN TO OUR TEAM FOR GUIDANCE
WE HELP FAMILIES NAVIGATE TO THE NEXT CHAPTER
Certified by the Supreme Court of New Jersey

Practicing Family Law Exclusively

Over 60 Years of Combined Experience

Recognized & Trusted by the New Jersey Community

Free In-Person Consultations