Monmouth County Family Lawyers Pursuing Restraining Orders
Get the Help You Need to Protect Yourself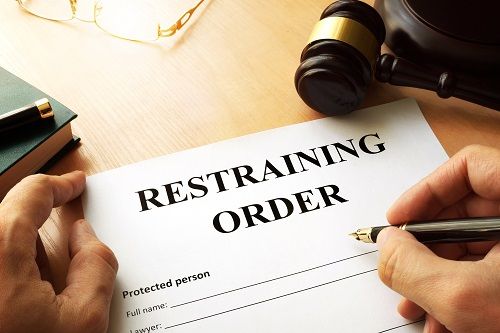 At the Law Offices of Steven P. Monaghan, LLC, our Monmouth County family law attorneys take the issue of domestic violence seriously. If you have been a victim, we will take immediate action to obtain an emergency restraining order, temporary restraining order or final restraining order. With more than 60 years of combined experience on our side, we understand the standard for obtaining a restraining order and the steps for obtaining a restraining order. We will stand by your side through those steps.
What a Restraining Order Does
A restraining order, also referred to as a protective order or order of protection, essentially orders the person accused of domestic violence to stay clear of the victim. In some cases, this may mean that the person who committed the domestic violence must remove him or herself from the family home and make no contact with the victim through any means.
The restraining order is a civil remedy, although it may accompany criminal domestic violence charges. Violation of the restraining order is a criminal offense. In addition to helping you obtain a restraining order, we can work to ensure that it is being enforced properly.
How To Get a Restraining Order in New Jersey
Under New Jersey's Prevention of Domestic Violence Act, you are protected against domestic abuse. You have the right to be safe.
But if you are being abused, there are steps you can take to obtain a final restraining order against the person who is abusing you. This legal document will keep that person away from you, helping you to remain safe. Contact our Monmouth County domestic violence lawyers today.
How It Begins
Usually, when someone is being abused, the police are called to intervene. In the process of their investigating the call, they may ask you to file a complaint. This legal document gives the details of the abuse and is the first step in obtaining a temporary restraining order or TRO. The TRO is issued by a domestic violence hearing officer, by a municipal court judge or by a family court judge.
The Final Restraining Order: The Process
Within 10 days of the TRO, there will be a hearing scheduled for your final restraining order. You will appear in court to tell your side of the story and it is possible your abuser will be there, too, telling his or her side. If you are fearful of your abuser, there will be protection for you.
Along with telling your side of the story, you should bring to court proof of the amount for money you need for support, if your abuser has the obligation to support you.
Before going to court, it is wise to consult an experienced Monmouth County domestic abuse attorney.
This proof includes:
Canceled checks
ease showing the amount of rent
Mortgage documents
Utility bills
Latest income tax returns or pay stubs
Any other information that will document how much money you need from the abuser
To obtain a final restraining order, the court will conduct a trial and examine several factors, guided by New Jersey's Prevention of Domestic Violence Act.
These factors include:
Does the person seeking the restraining order qualify as a victim? A victim of domestic violence can be an adult, an emancipated minor or a minor and includes those who are elderly or disabled. Also according to the law, individuals who have experienced violence in a dating relationship also qualify.
Is the alleged act considered domestic violence? Domestic violence is defined as: homicide, terroristic threats, criminal restraint, sexual assault, criminal sexual contact, burglary, criminal trespassing, assault, kidnapping, false imprisonment, lewdness, criminal mischief, harassment, and stalking.
Is there a history of domestic violence or was it just one act? Regardless if there is a history of domestic violence or this is just one act, domestic violence would include threats, harassment, and physical abuse.
Is the victim in immediate danger or is his/her property in immediate danger? Both situations are covered by the New Jersey law and are considered by the court.
If the court finds that the victim has proved these factors, the court will issue a final restraining order.
If you need help in obtaining a final restraining order, talk to an experienced Monmouth County domestic violence lawyer at the Law Offices of Steven P. Monaghan, LLC. Your initial consultation with us is always free. To get started, call us at (732) 624-6343 or complete the online form.
Is There a Restraining Order Against You?
In some cases, a restraining order may need to be removed. Perhaps it was obtained erroneously or because of false allegations. Perhaps there is no longer a need for the restraining order. We can assist with setting aside a domestic violence restraining order.
Contact Us for a Free Initial Consultation
Call our Monmouth County restraining order attorneys at (732) 624-6343 or send us an e-mail.
Meet Your Advocates
Personalized. Compassionate. Experienced.
Former Client Experiences
We Tailor Our Approach Specifically to Meet Your Goals
- M.A.H.

- K.S.

- G.H.

- S.C.

- M.D.
TURN TO OUR TEAM FOR GUIDANCE
WE HELP FAMILIES NAVIGATE TO THE NEXT CHAPTER
Certified by the Supreme Court of New Jersey

Practicing Family Law Exclusively

Over 60 Years of Combined Experience

Recognized & Trusted by the New Jersey Community

Free In-Person Consultations